Frequently Asked Questions
What is the delivery time?
Within the Netherlands deliveries will be sent after 2 working days after we received the payment. For more information see our general conditions. For other countries see table beneath:
Country
Delivery time (in work days)
Belgium
5
Denmark, Germany, France, Luxemburg
5 - 6
Ireland, Austria, UK, Sweden
5 -7
Finland, Hungaria, Italy, Poland, Spain, Slovakia, Czechoslovakia
5 -8
Estonia, Latvia, Lithuania, Portugal, Slovenia
6 -8
Bulgaria, Rumania
6 - 9
Cyprus, Greece, Malta
7 - 10
Japan
3 -5
Outside EU (excl. Japan)
5 - 10

If a product is temporarily not available the delivery times can be longer, but delivery is always completed in 30 days. If this period is not feesible, the buyer is contacted about the correct delivery time. If you have ordered multiple products of which one is not available the others will be shipped in advance. The remaning product will be shipped when available at no extra costers for the customer.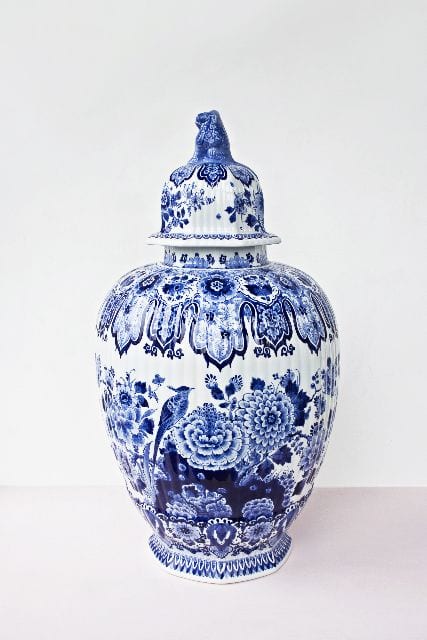 How can I pay in the Royal Delft webshop?
Netherlands:
You can pay for purchases from the web shop via a money transfer. After you receive the payment information, you can settle the transaction via a deposit transfer card or via Internet banking. Another possibility is the payment method iDEAL, a secure online payment system that can be used in the safe and familiar environment of your own bank. All customers with Internet banking at ING, SNS Bank, Rabobank and ABN AMRO can make use of this system. In the Netherlands it is also possible to pay by bank transfer (this involves a processing time of 2 to 3 days) or with a Visa/ Mastercard.
Belgium/ Germany/ France/ Spain/ Italy/ Greece/ UK/ Finland/ Denmark/ Switzerland and Austria:
Orders from the above countries a local card or a credit card (Visa/Mastercard).
Other countries:
Orders from other countries can be settled via a bank transfer using the IBAN number and the BIC code or by using a credit card (Visa/Mastercard).
How can I return a product?
In case you have a question of wish to return a product related to a transport damage, wrong delivery or during approval period please fill in this form and send it to sales@royaldelft.com. If you would like to return the parcel immediately please add the form to the parcel.
How are the shipping costs are calculated?
The shipping costs are related to the weight of the product ordered and the country of destination. In these shipping costs the packing costs and handling are included but excl., if necessary, import fees.
Have we not answered your question? Please do not hestitate to contact us via sales@royaldelft.com or take a look at our General Conditions.